When it comes to cloud computing, Microsoft Azure and Amazon Web Services are unrivaled. They are the Titans in this space, and while Google catches up, the battle royale is currently between these two titans. Why would you choose Azure over AWS when there are two good alternatives?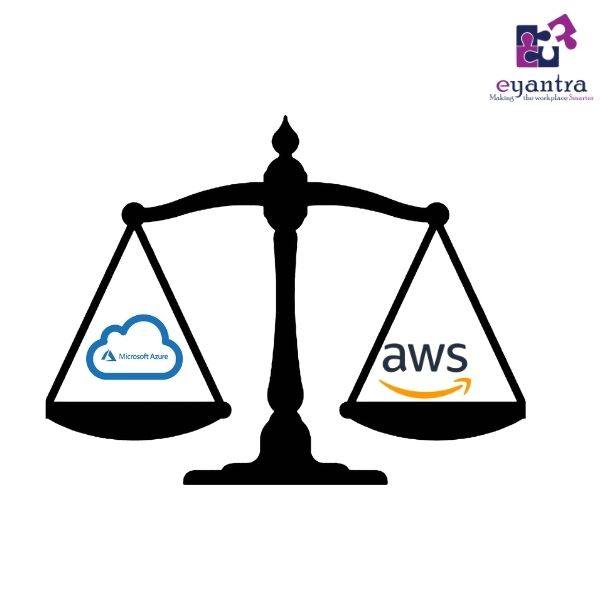 Why would you choose Azure over AWS when there are two strong contenders?
Azure, to be clear, is a newcomer to the scene. Azure was launched in 2010, several years after Amazon Web Services (AWS) launched in 2006. Despite the delayed debut, Azure has made significant progress and now outperforms AWS in terms of capability. Azure has a significant advantage over AWS in the struggle for cloud platform supremacy in the following areas:
Regional Availability
It's critical to have the correct data center in the right region for your projects or clients. Azure is the market leader in providing worldwide data center alternatives, with 42 regions. Microsoft Azure, on the other hand, isn't satisfied with their existing position as the industry leader .It has prioritised global data center region expansion in order to stay ahead of the competition, ensuring that the data center you require is placed in the appropriate region for your project. .
Hybrid Cloud with Consistency
Azure has unrivalled hybrid capabilities, which distinguishes it from many other popular cloud service providers.It facilitates easy mobility and a reliable consistent platform between on-premises and public Cloud to the Azure Users. However, it provides a broader range of hybrid connections including Site to Site, point to site, and ExpressRoute connections to improve usability and performance.
Options for Developers
With Azure, developers can get from concept to final product in a matter of days. The speed is due to the many baked-in features of Azure such as Infrastructure as a Service(IaaS), Software as a Service (SaaS), and Platform as a Service(PaaS). These "as a Service" offerings allow developers to be more productive and cost-efficient. When efficiency improves, ROI improves as well.
Azure supports developers with even more.
100+ services

Application delivery

Agile development practices

Management experiences

Use of any development tool

Open source project support

Development intelligence – Blockchain as a Service, machine learning, cognitive APIs

etc
The Top Five Reasons to Choose Azure Over AWS
The majority of enterprise-level organisations utilise Microsoft products and are covered by a Microsoft Enterprise Agreement. As a result of this agreement, the company benefits from bulk licence discounts and, in general, a price reduction on Azure..
Better Platform as a Service Options
AWS and Azure are equivalent in terms of Infrastructure as a Service capacity . When both are compared on the basis of their Platform as a Service offerings, however, the equivalence is broken.   Microsoft Azure cloud is far ahead of the competition when it comes to giving app developers what they want. Azure has PaaS down to a science, from tools to environment and administration options. Because Microsoft Azure  spends so much time perfecting its PaaS, it gives developers the freedom to experiment while building and delivering cloud services.
Compatible with .Net Framework
 One of the reasons Azure beats out AWS in the cloud gladiatorial ring is its compliance with the programming language. Net. As a result, The .NET framework  used in the creation of both old and new applications, and internet compatibility is essential. Businesses at the enterprise level may relocate. You can easily and quickly migrate your on-premises apps to Azure. Compatible with the internet.
Consistency in a Hybrid Environment
Hybrid consistency is a fundamental differential between AWS and Azure. If you choose Azure for your hybrid cloud needs, you can get started right now. If you choose AWS, you may have to wait a while, and whenever AWS releases an option, there may be a period of "ironing out the problems
Azure provides an environment that allows the user to utilize the language, framework, and third-party applications they are most familiar with. This integrated environment allows for the perfect space in which users can  create, test, and deploy cloud-based applications. The Platform as a Service that Azure provides combining the devices, applications, partners, and data that an enterprise-class company needs and making them available locally and in the cloud. 
.